Signs and Wonders in Medjugorje, Bosnia


A close friend of mine, Tony who lives in the Santa Barbara area, went to Medjugorje for a pilgrimage by himself. While he was there in March 1995, he took a spectacular photograph from the backyard of the Visionary Vicka Ivankovic. The photograph was a view looking up at the cross on top of Mt. Krizevac. The time was approximately 9:00 in the morning. My friend had on a telephoto lens and the distance to the cross was about a mile or more. This is what he saw through his lens; the Blessed Virgin Mary praying to the left side of the cross!

After returning home my friend showed me the photograph of our Blessed Virgin Mother. I was very moved by what I saw, so much so that I decided to go back to church after 30 years of abstaining from religion. The following year, March 1996, my friend Tony and I went to Medjugorje and were fortunate enough to stay with Vicka. During my stay in Medjugorje, many wonderful signs and wonders were shown to me. After I returned home from this pilgrimage and developed my film I realized that one photo was particularly interesting. It had the image of Christ in the clouds above the cross at Mt. Krizevac.

Being an artist, I combined most of what I saw and felt in a painting that I completed after my journey to Bosnia. The following year I returned to Medjugorje and stayed again as Vicka's guest. I presented her with a framed print of "Forgiveness" I did the previous year. This framed print remains in Vicka's sitting room today.

Click here to read "The Bruce Heitz Story" from Medjugorje Magazine!
Click here to read my notes on Eucharistic adoration.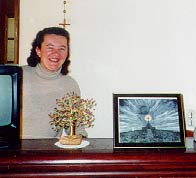 Vicka with the framed print
of "Forgiveness" in her home
SHOWN BELOW IS SOME OF MY ARTWORK
| | |
| --- | --- |
| Actual Photo | Forgiveness |
| Trails End | Rain Storm |
| Someday | Moonshadow |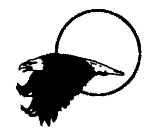 Moon Shadow Art
520 Pine Ave.
Space 25
Goleta, CA 93117
(805) 683-9720
I've built these masks of the crown of thorns out of potato burlap bags.
These take a lot of time to build and each mask is unique.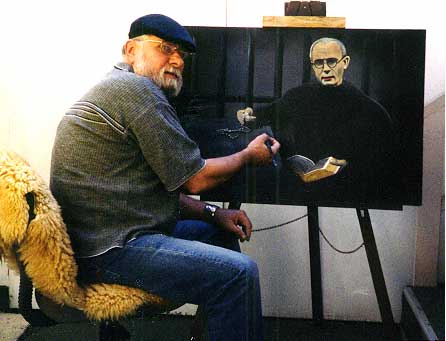 This is me painting a picture of St. Maximilian Kolbe.
You can find more information about St. Max at KolbeNet.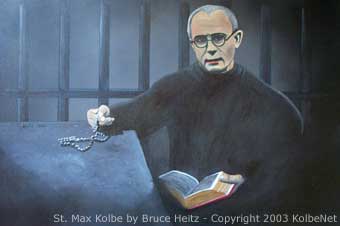 Please check out these links to other special sites:
For more information regarding Medjugorje, go to
http://www.medjugorje.org/medpage.htm
http://www.medjugorjeusa.org/
All images on this site are Copyright 2000-2016 Bruce Heitz. All rights reserved.
SITE DESIGNED AND HOSTED BY KOLBENET CATHOLIC NETWORKING